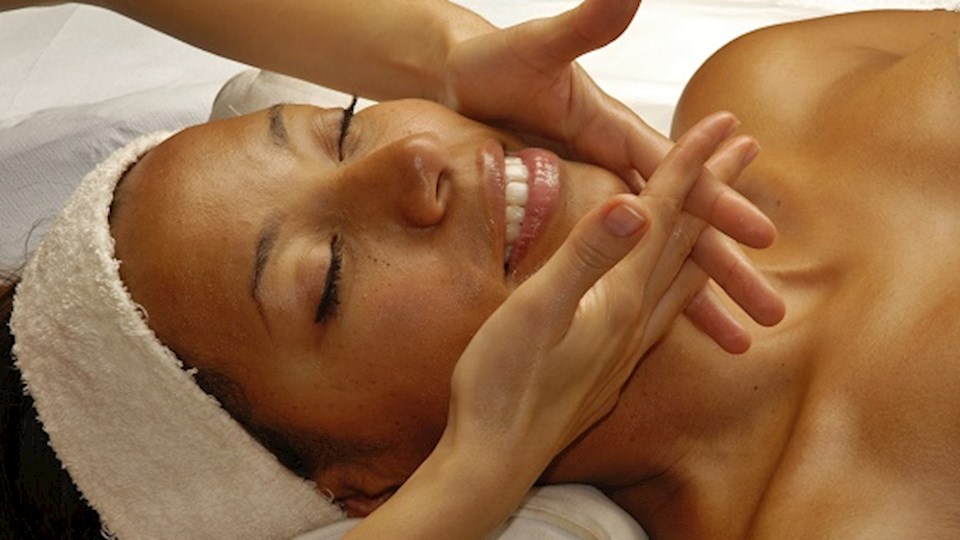 Woodlands Beautifying Facial £21
Our signature facial! A mini cleanse, tone and moisturise to refresh and pamper your skin, with a mini hot stone massage to the chest, shoulders and arms..
Facials are one of our specialties at Woodlands. A hands-on facial not only pampers your skin but completely relaxes your mind and body. Each of our venues offers a selection of different facial and skin treatments, click on the tabs below to see the various facials available. If you are looking for a more intensive skin treatment, such as dermaplaning or a chemical peel, please visit our Advanced Skin Treatments page.
Woodlands Beautifying Facial (30 mins) £21
Cleanse, exfoliation, tone and moisturise with hot stone massage to shoulders, chest and arms.
Please note; Clarins facials are available at Woodlands Aigburth only.
In a Clarins treatment, the Beauty Therapist uses a combination of Clarins products and Clarins PRO products. PRO products are used exclusively in Clarins treatments and are specially designed to be used with the Clarins Method. A subtle alchemy of precious plant extracts and delightful textures, they deliver immediate, optimal results and allow for total personalisation of the treatment.
Discovery Facial £40 (approx 40 mins)
Your first taste of a Clarins Facial tailored to your skin type. Includes massage to neck and décolleté.
Clarins Signature Facials £65 (approx 1 hour 20 mins)
These are highly personalised, results-driven facials which use a fusion of science, touch and nature. 
The Moisture Quencher.  
For dry, dehydrated skin. This multi-level hydration treatment, gives intense nourishment for dry, weakened skin. Dehydration lines are plumped and feelings of tightness disappear – your skin feels wonderfully soft and supple with its radiance restored.
The Skin Soother.  
For sensitive or irritated skin. This soothing and healing facial will help calm irritated and sensitised skin. Redness is reduced and your skin recovers its softness, suppleness and comfort.
The Radiance Reviver (ages 30+)  
For stressed skins - ideal for new mums or people constantly on the go. This treatment recharges dull, tired and stressed skin with a cocktail of antioxidants and revitalising plant extracts. Skin recovers a healthy dewy glow and early lines and wrinkles are smoothed. Your skin is better protected against lifestyle and environmental aggressors that lead to premature ageing.
The Lifting Replenisher (ages 40+)  
For fine lines and superficial wrinkles. This treatment smoothes, re-sculpts and re-defines facial contours as well as visibly reducing the look of wrinkles and dark spots. The ultimate rejuvenation for your skin.
The Power Firmer (ages 50+)  
For skin lacking in luminosity, age spots, deeper lines and wrinkles, menopausal skin, redness. This treatment stimulates the skin to deliver a triple rejuvenating action targeting wrinkles, firmness and elasticity. Wrinkles are smoothed, facial features lifted and your youthful vitality restored.
Signature Facial Add-ons £20 (20 mins) 
Enhance your facial experience by adding a 20 minute back massage or 20 minute scalp and foot massage to your Signature Facial.
Please note; Dermaquest facials are only available at Woodlands Baltic and Woodlands Woolton.
These facials are results-driven, using advanced formulas which contain superior ingredients including antioxidants, plant stem cells and hyaluronic acid. All facials include hot stone massage the neck, shoulders and chest.
The Skin Soother £35 
For sensitive or irritated skin. Reduces redness and inflammation while repairing and nurturing very sensitive skin. 
Vitamin Infusion £30 
A "pick me up" for the skin. Antioxidant facial to prevent the early signs of ageing.
SkinBright £35 
For dull or discoloured skin. A brightening treatment which adds a glow to the skin and can address mild forms of hyperpigmentation.
Dermaclear £35 
For oily and congested skin. Purifies the skin, treats blackheads and helps prevent future breakouts. 
Revitalising Facial £39 
For dry skin. Restores hydration levels, softens and provides an instant glow to the skin. 
Advanced Revitalising Facial £45 
A deep anti-ageing treatment for all skin types. Balances and restores vitality to the skin. Gives an instant, visible lift. 
Peptide Vitality £50 
For fine lines and wrinkles. Plumps and firms tired skin, improves hydration.