Want to know more about Profhilo? Watch it being done!
By Woodlands Aesthetics & Beauty
30 May 2019
In addition to the more recognisable treatments available in our clinic, such as Botox and dermal fillers, Woodlands offers a variety of treatments you may not have heard of before, including sclerotherapy and intralipotherapy. Another of these "lesser known" treatments is Profhilo, however, due to its rising popularity and a number of features over recent months in the media, that may be about to change. Take the time to Google "Profhilo treatment" and you'll discover a number of rave reviews, including this one and this one, by Glamour magazine writer Lottie Winter, who says - "The radiance boost was like nothing I have experienced before from any number of creams, scrubs or serums– and it kept on getting better as my skin produced more and more collagen."
Youtube star and co-founder of the international makeup brush brand Real Techniques, Nicola Chapman, recently filmed herself having a Profhilo treatment at a cosmetic clinic in London. Take a look at the video below to get an idea of what's involved.
As you can see from the video, Nicola explains that Profhilo is an injectable Hyaluronic Acid treatment designed to boost hydration from within the skin itself. Unlike dermal fillers, which are formulated so that they plump up the area that they are injected into, Profhilo has a higher concentration of HA, which means it spreads and flows through the skin, distributing itself evenly and integrating into the tissue. Once integrated with the skin, it hydrates and stimulates collagen and elastin production throughout, resulting in an overall improvement in texture and skin tone, and a slight plumpness to the skin. Profhilo is injected into five points on each side of the face. These points are known as Bio Aesthetic Points and research has shown them to be the best areas to place Hyaluronic Acid.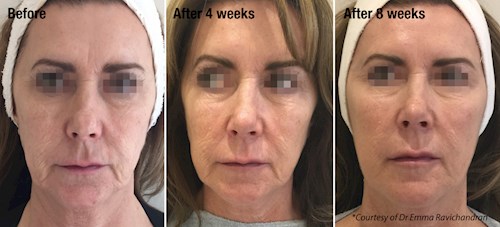 The results from Profhilo are subtle and natural, so it's an ideal treatment for those who don't want to look like they've had anything "done". In the video, Nicola comments that other people noticed that she looked well, but couldn't pinpoint what was different. Due to its hydrating qualities, Profhilo is also great for those who suffer with dry or dehydrated skin and has, therefore, been described as an "injectable moisturiser".  For best results, Profhilo requires two treatment sessions, one month apart. The results usually last for around six months.
Profhilo is currently available at Woodlands for just £500 for two sessions. Click here or call 0151 728 2536 to book a consultation.