Award Winning Woodlands!
By Woodlands Aesthetics & Beauty
20 February 2013
As you may already know, Woodlands currently works with Alder Hey hospital and Everton in the Community to provide a monthly service to patients and parents at the hospital called "Soccer Spa". Once a month, two of our Woodlands girls head over to Alder Hey, armed with goodies to treat the children to face and nail painting, as well as massages for the parents. This is always a really popular day at the hospital and the girls absolutely love going.
Due to this programme, as well as the other fantastic activities that Alder Hey runs for its patients, the hospital has recently won two awards at the Patient Experience Network National Awards (PENNA). Alder Hey was announced as the winners in the 'Support for Caregivers, Staff and Family' category, as well as being announced as the "Overall Winner" on the night.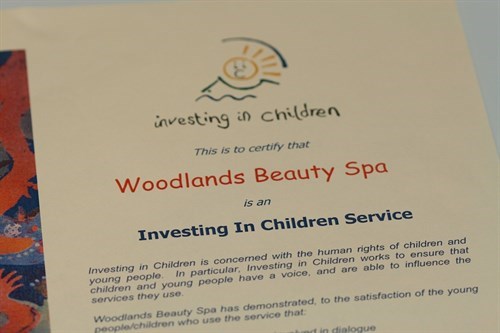 Karen Ross, Head of Patient Experience, said: "Here at Alder Hey, we recognise we have a responsibility of not just caring for patients but treating their families too. We are delighted to have such a positive and pro-active partnership with Everton Football Club and Woodlands Beauty Spa. These therapies help to aid relaxation and reduce stress during what is obviously an extremely difficult time in their life." 
Here's a few comments from the judges who were involved in the awards
"This is a fantastic initiative to improve the outcomes for patients, carers and families. This is demonstrating the whole family approach to wellbeing."
"Helping disabled people, particularly youngsters, bridge important physical, social and emotional divides is really important. The partnership with Everton FC and the spa really helps in this regard. It's a real win/win." 
Our work with Alder Hey has also resulted in us recently being granted Investing in Children membership. Investing in Children is an organisation concerned with the human rights of children and young people. The  Investing In Children Membership Scheme recognises and celebrates examples of imaginative and inclusive practice. Investing In Children members are those services that can demonstrate a commitment to dialogue with young people that leads to change. 
We're so pleased that the work we've been doing has contributed towards Alder Hey winning these awards and has been recognised by Investing in Children, and we look forward to continuing with "Soccer Spa" in the future.