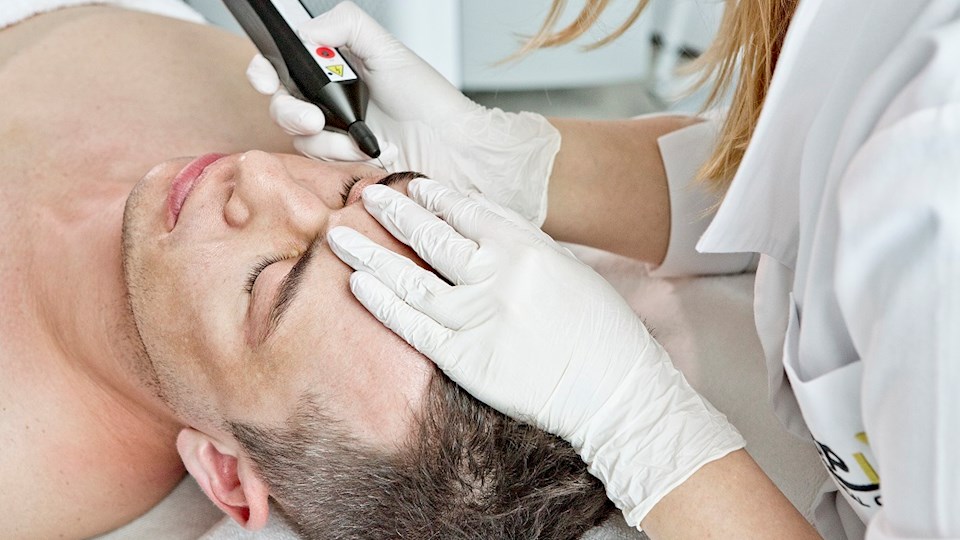 Plasma Pen Treatment Liverpool 
Woodlands Beauty Clinic are specialists in providing plasma pen treatments in all of our Liverpool clinics. Our experienced team are on hand to answer all your questions during your initial consultation, right through to your first treatment.
What is Plasma?
Plasma is a medical procedure which sublimates the skin. Sublimation is the process of turning a substance from a solid straight into a gas. In medical aesthetics, sublimation can be used to visibly remove tissues, therefore treating concerns such as; scarring, warts, skin lesions and loose skin around the eyes (non-surgical blepharoplasty).
How does Plasma work?
The procedure uses a small, pen-like device which has a very fine probe at the end. The device uses radiofrequency to ionise the gas particles which exist in the air between the tip of the probe and skin. When the gas is ionised, it generates plasma and this plasma then produces an electrical arc. The arc delivers energy straight into the epidermis which results in sublimation. As a result, the tissue in the area being treated retracts and tightens.
Where can be treated with Plasma?
Plasma can be used to improve the appearance of a number of different indications including;
Lines and wrinkles
Scarring
Skin lesions such as warts, verrucae and seborrhoeic keratosis
Loose skin around the eyes (non-surgical blepharoplasty) 
Does it hurt?
Topical anaesthetic is applied prior to treatment so during the treatment itself you should not feel any pain. After the treatment is completed, you may experience some tingling or burning which usually resolves after a few hours. If it persists, anti-inflammatory medication such as ibuprofen can be taken.
Is there any downtime following a Plasma treatment?
Please note: depending on your job and lifestyle, downtime may be required following treatment. This will be discussed in depth at consultation before any treatment takes place.
Immediately after treatment it is common to experience swelling, which may get worse the day after your treatment. If undergoing non-surgical blepharoplasty, it is likely that you will have swelling around the eyes, which may be quite pronounced. At its worst, swelling can cause interference with vision. It can last for several days.
Tiny dark brown or black spots may be apparent on the skin or the area may take on more of a burn-like or scabbed appearance. It is important to keep the area clean and dry during the healing process and to allow any spots or scabs to flake off naturally as picking at them can cause scarring. The healing process can take up to two weeks.
How many treatments are required?
Results are visible from your first treatment, however, for best results, you may require more than one treatment. This will depend on the particular area being treated and desired results. In the case of non-surgical blepharoplasty, you may require up to 3 treatments (6 weeks apart) to see optimal results.
How much does it cost?
One session treating both upper and lower eyelids is £250.